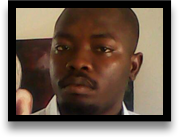 Vincent
Born into a family of artists in Eastern Nigeria, Vincent's earliest memories include watching his parents draw and paint. Since completing his first sketch at age 5, Vincent's work has won several awards. His paintings have been shown in solo and group shows in galleries in Nigeria, South Africa, Italy, Germany, and the United States.


However, Vincent didn't start identifying himself as an artist until later in life. Even though he graduated with honors in painting, for years Vincent saw his art as a hobby. "My parents were a source of encouragement," says Vincent. "They told me to stop seeing my work as amateur and to keep working hard on improving my painting skills." Visiting galleries and museums, Vincent realized that some artists were making a living out of what he was doing for fun. "This made me very interested in continuing my challenging quest for perfection."

Today, Vincent uses his art to celebrate beauty and to convey his emotions. In addition to his formal education, his painting style and technique were heavily influenced by his late Grandfather, a great artist and designer. By studying his grandfather's traditional flat paintings and sculptures, Vincent discovered secrets of using hidden textures and dramatic brush strokes.

Vincent lives and paints in California.
Read full bio